Who is PremDad?
Hi. I'm Carl MacDonald, and – among other things – I'm a dad to twin boys.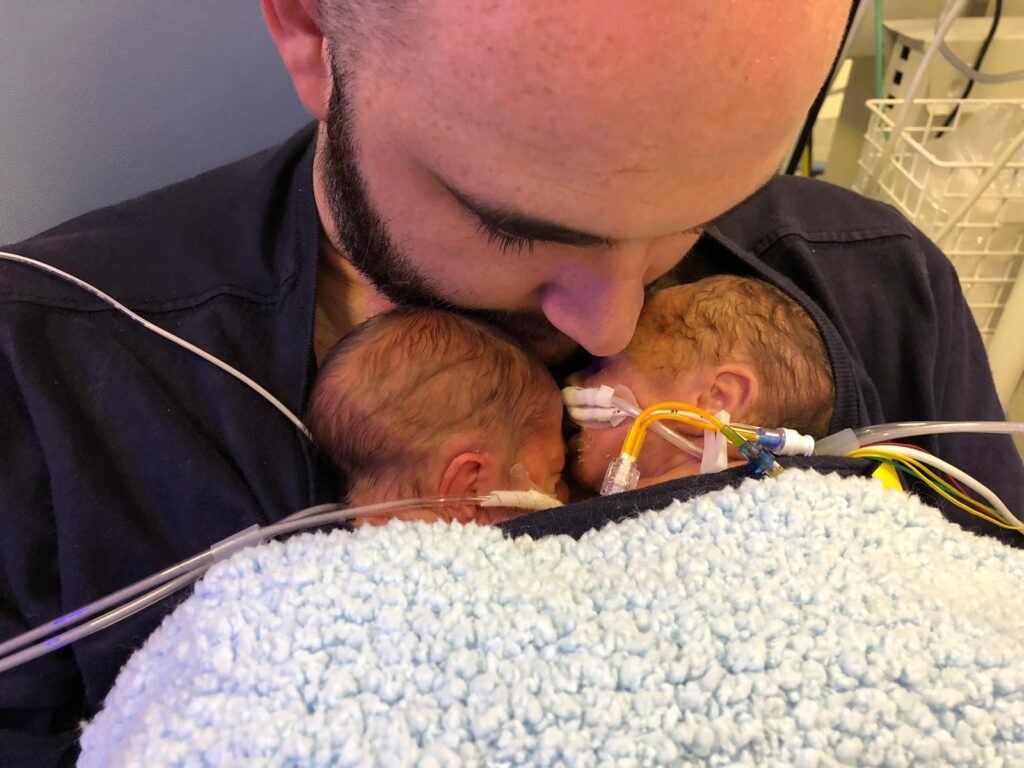 That's me. This photo was taken at the moment I held my sons together for the first time – six long, dark days after their births.
See, it wasn't a straightforward birth. Our boys were born 13 weeks prematurely, and there started a crazy rollercoaster of emotions, stress, anxiety and uncertainty.
I'm just an ordinary bloke who went through an extraordinary experience. And now I'm ready to share it with the world.
Why this blog?
The idea of writing about my experience was in the back of my mind for a while, but I hesitated every time I was about to take the plunge.
Then I wrote an article for The Huffington Post, which changed everything.
The article, entitled 'Traumatic Births Can Be Hard For Dads Too. We Need To Talk About It', was published in February 2020. As soon as I got the word that it was live on the site, I panicked. Had I done the right thing? Was this a mistake? Would anybody even care?
I needn't have worried. The response was incredible.
Family, friends and colleagues shared in their droves, with unanimous messages of support. And even more unbelievably, I started to get messages from people I didn't even know.
Parents who'd gone through similar experiences, or who just wanted to send their own words of encouragement and thanks. The article was shared by charities such as Bliss, as well as huge communities like Dadsnet.
The Labour politician, Angela Rayner, whose son was born prematurely, even shared it and tweeted her thanks for sharing my story.
All of this stoked the fire inside of me – and so here we are.
The purpose of the blog is simple:
What can you expect?
Becoming a dad didn't happen the way I thought it would. I was thrown into it far earlier than I should have been, and it affected me deeply.
On these pages, I'm going to share my story, warts and all.
Each post will focus on a part of that story, right from the moment I found out my wife was pregnant, through to the present day.
Further down the line, I'd love to do some multimedia content and maybe even invite other dads (or mums) to share their stories here.
But for now, this is my story, told my way. Check out how it all started when my sons were born in chaotic circumstances.
How can you keep up with the story?
The best way to keep up-to-date with the story is by signing up to my email list. I'll be sharing each post with my subscribers before anyone else, so sign up now to get the latest stories, articles and updates delivered directly to your inbox.
A blog is nothing without its readers, so I'd love to hear from you. Get in touch via the contact page or through my social channels:
Thanks for stopping by – see you around!