Lorna Tallowin's journey as a mother began on an emotional note when her son was born prematurely. Faced with the challenges of caring for a premature infant, Lorna found herself in uncharted territory and struggled to find the support and resources she needed.
But her love for her baby, her determination to help others in similar situations and a blossoming friendship with a NICU nurse drove her to later create a product that would make life easier for premature babies and their parents.
In this article, we follow Lorna's journey and hear about the product she helped create to help families facing the same challenges she once did.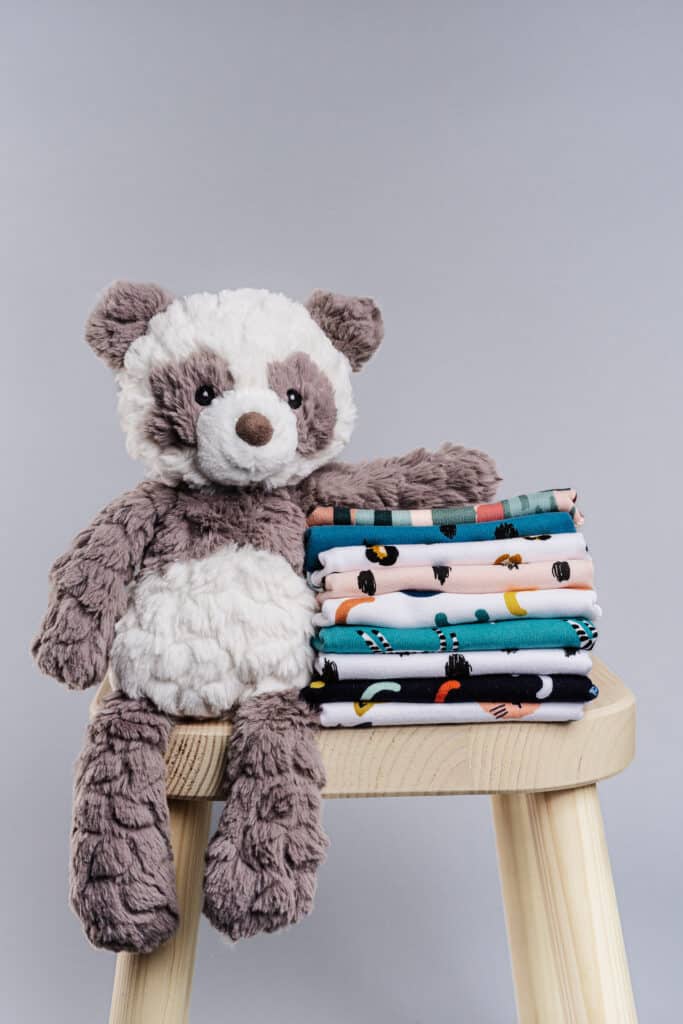 An unexpected start to motherhood
Lorna's pregnancy was going smoothly until she suddenly went into premature labour at 31 weeks. "I had a very straightforward, very low-risk pregnancy until 31 weeks when my waters broke suddenly," she recalls. "I definitely didn't anticipate having my baby the next day, but that's where we ended up."
Lorna found herself in a world she knew nothing about – the NICU. "We hadn't had our antenatal classes. We knew nothing about babies. We knew nothing about childbirth or labour. So first child, and we were suddenly kind of thrown into the NICU world," she explains.
Despite the sudden turn of events, Lorna managed to stay calm and positive throughout the birth experience. "I was really thankful that I had quite a positive kind of birth experience. I'd read a hypnobirthing book and I managed to just kind of stay calm and try and stay positive," she says.
Lorna's son was born just after seven months' gestation, and he was immediately taken away for medical attention. "My son was born and he cried, and I just thought, he's alive. Everything's fine because he's alive," she recalls. But the birth experience was far from what Lorna had imagined. "It wasn't that kind of first moment we were hoping for," she says. "We took one picture as he was kind of wheeled past, which is not a particularly nice, fond memory."
Despite this, Lorna's son was well taken care of and eventually came home after just six weeks. "He was really well looked after and he stayed in the intensive care for a few weeks. Then he was in high dependency for a few weeks. And then he was transferred to another hospital for SCBU for a couple of weeks. And then he came home just after six weeks from when he was born," Lorna says.
Despite her son's relatively smooth journey, Lorna found the whole experience of being in the medical environment traumatic. "I'm not very comfortable or confident in a medical environment, I found it really quite traumatic and I felt a bit more like kind of a healthcare worker rather than a mother," she shares.
A new clothing brand for preemies is born
Lorna co-founded SuperDinky in September 2022. The idea for the brand came from her friendship with a neonatal nurse, Beth, who noticed the lack of joyful and high-quality clothes available for tiny babies.
Lorna and Beth, both working mothers with limited time, started the brand as a passion project and launched it without much fanfare. Despite the unassuming start, they received positive feedback and orders started coming in.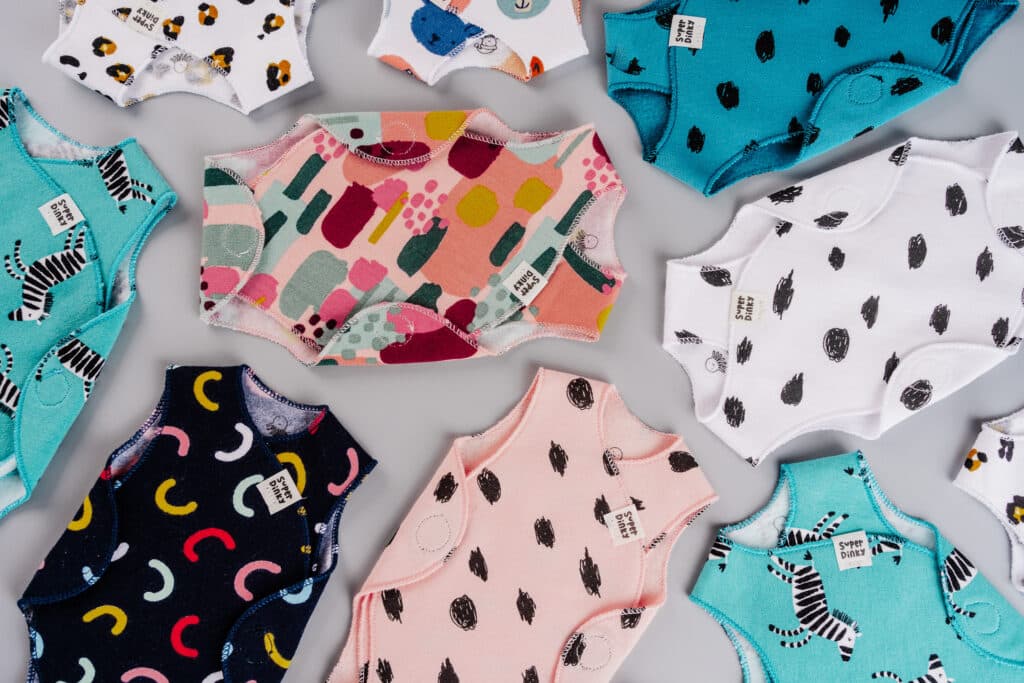 "It's been really good," says Lorna. "Beth and I are just two mums trying to do this as part of our life and something we feel passionate about."
Despite being a kitchen table start-up, the brand has grown organically. "People liked it enough to buy it again and again," says Lorna. "We had somebody who has decided to buy two a month for their NICU as a way to say thank you for the care their baby received. It's heartening to see the brand making a positive impact and helping to support other parents."
Lorna has a background in fashion design and worked as a women's designer for eight years. She was able to bring her technical skills to the table, while Beth brought her experience as a neonatal nurse and a vision for a baby-centric brand.
"I actually studied fashion design and worked as a women's designer for eight years. I'm quite used to working with fabric and things like that. And it's kind of fun," says Lorna.
Beth had been a neonatal nurse for 12 years and had seen the lack of clothing options for babies that were suitable for medical staff and gentle on baby's sensitive skin.
"She was saying that just she hadn't been able to find something she'd never seen something that lived up to her idea of what it could be. So something that worked really well for the medical staff. So our vests are organic cotton, and they're really, really soft on the inside, kind of like a brush sweat, they're really soft on the baby," Lorna explains.
The two women met when Beth was taking care of Lorna's baby, and a year later, they reunited over coffee. Beth approached Lorna for help turning her vision into a tangible product.
"She just said, you know, I really need some help with this. Do you think it has any kind of potential and do you think you'd be the right person to kind of help me turn into something a bit more kind of real and tangible?" says Lorna.
After two years of product development and testing, SuperDinky was born. Lorna designs the patterns and makes everything in her small studio.
"I basically make everything at the moment. I'm in my tiny studio at the moment. So I've got an overlocker, I've got a sewing machine. We had some labels designed; I've got a stack of boxes and we hand print the tissue paper that they come all beautifully wrapped in at the moment. So everything is very much done on the light kind of small batch scale at the moment," says Lorna.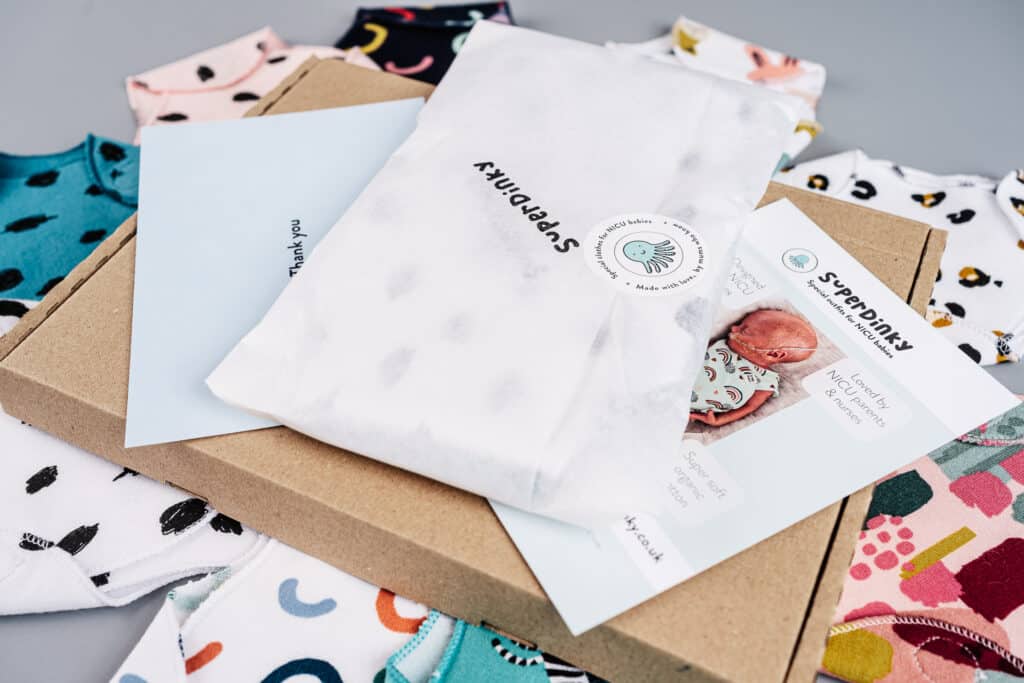 Each piece of SuperDinky clothing is made with care and features a brand label and a small illustrated octopus friend. "There's a brand label on there and there's a tiny octopus on the back; it's like baby's got a little friend in them in the incubator," explains Lorna.
Lorna has a unique approach to crafting the beautiful and comfortable pieces. Each order is hand finished with care and attention to detail, ensuring a high-quality product for every customer.
"Once an order comes in, I kind of finish making one or make one start to finish depending on kind of where I'm at with what stock I have," Lorna says. "I tend to keep a couple of each design ready to go. So it would be hand finished for your order."
Lorna also puts a personal touch on each order by including a handwritten note in a little card that goes in the box. If the order is a gift, customers can write their own message on the website and Lorna will write it in the card.
"The boxes are all kind of letter box size," Lorna explains. "So if you're at the hospital all day, you can still receive it and you know take it in the next day. So we've tried really hard to think about all of the things that you know, babies need but nurses need neonatal staff need and then also just to make it as easy as possible for the parents because we know what it's like to be at a hospital all day."
Customers can even buy the clothing on a "pay it forward" basis. "You can send one to another family who might be having a hard time at the NICU your baby graduated from," Lorna explains.
Lorna's and Beth's consideration and thoughtfulness towards both the parents and medical staff at the hospital are evident in every aspect of her brand. From the hand-finished clothing to the conveniently sized boxes, they are dedicated to providing the best possible experience for their customers.
Pregnancy after NICU
Alongside her impressive tiny outfit-making skills, Lorna is (at the time of writing) on another motherhood journey, expectant with her second child.
So is the thought of another premature birth and NICU stay a concern?
"I am 26 weeks pregnant now, so it's definitely on my mind. Baby could come any moment," she reveals. "It's a really hard one because for three years, I would say I was one and done, just because I wasn't sure that I was mentally strong enough, or that our marriage and relationship would survive going through such a traumatic ordeal again."
Lorna shares the emotional toll that her first premature birth had on her family. "The first year after NICU, we call it the year of survival. We were so worried about all of the developmental milestones, we didn't really celebrate our baby in a way that I had anticipated," she says. "The NICU hangover kind of lasts so many years, you kind of wait until you see how it's going to impact further down the line."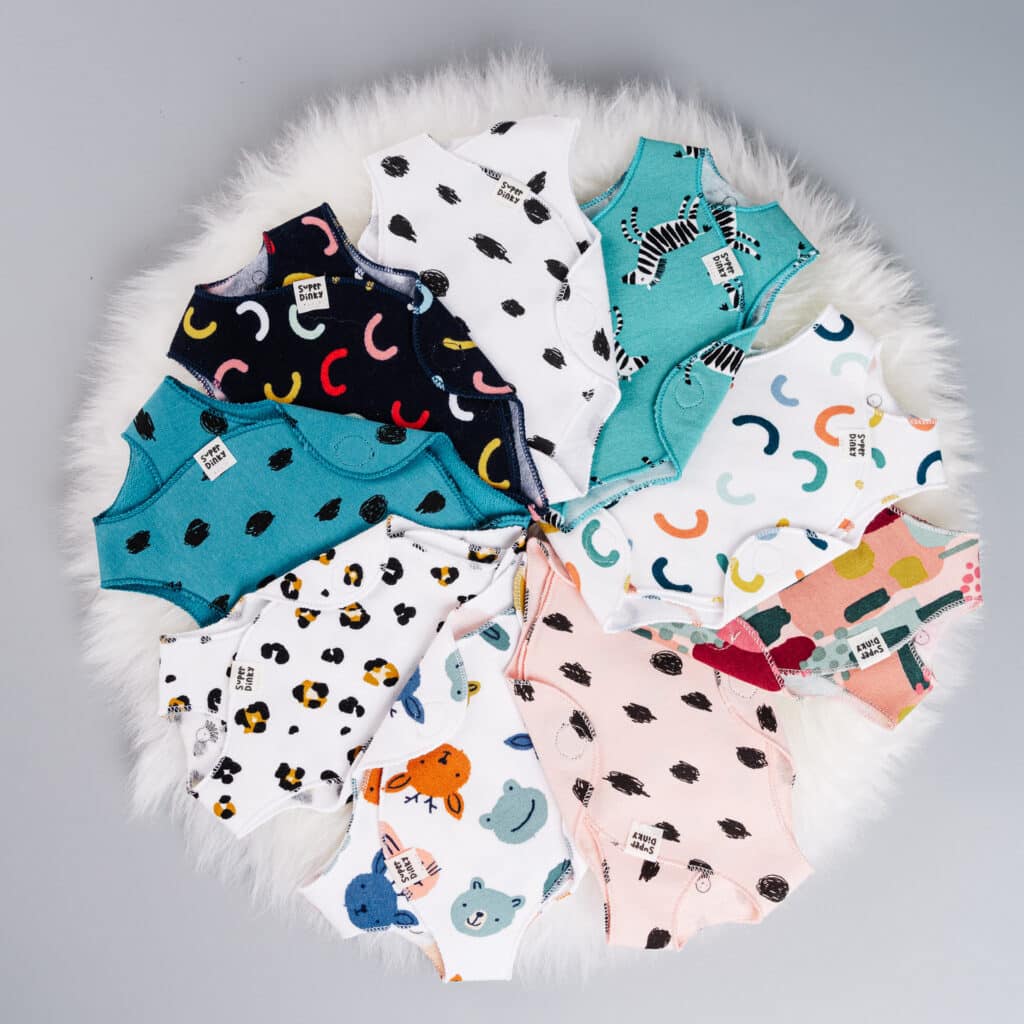 To prepare for a potential premature birth with her second child, Lorna and her husband made some changes to their lifestyle to prioritise their mental health. "We've moved to a different city where we've got a lot closer, more established friendship group and family closer. And we've both really focused on our mental health," she says. "I took medication to feel better and it really helped. I feel in a much better, more balanced place because of it. And I think having some counselling really helped, and also just talking to other people who have been through it."
Despite her concerns about a potential premature birth with her second child, Lorna feels more at peace now that she's under the care of a fantastic prematurity team. "I was very convinced that I would have another premature baby and I just wasn't sure I could do it, but having got pregnant, I've been under the care of the prematurity team, and they've been really phenomenal," she says. "I've had scans every two weeks which has been incredibly reassuring because every two weeks they typed my data into an app. And the app spits out the percentage likelihood of me having a premature birth. So I actually feel really calm and positive about it right now. Because although I'm twenty six weeks pregnant and you know, my last baby was born 31 weeks, I only have a 2% chance of that happening again based on what they can predict."
Watch the full chat!
A huge thank you to Lorna for taking the time to catch up and share her story. I love the SuperDinky brand and the thoughtfulness behind it; I certainly wish it had been around when my sons were in neonatal care. The pieces are a wonderful idea and would make a brilliant gift for a premature baby and family.
If you want to watch the full conversation with Lorna, head on over to YouTube where you can see it.
And don't forget to check out the SuperDinky store and follow the brand on Instagram!