I never really gave much thought to what my first Father's Day as a dad would bring.
Presumably, novelty socks, personalised pint glasses and some chocolates would feature prominently. I certainly didn't envisage spending it in hospital – yet that's exactly what happened. If your sons insist on making an extremely premature entrance into the world, that's the way it goes.
This is what it's like to spend Father's Day on a neonatal intensive care unit (NICU).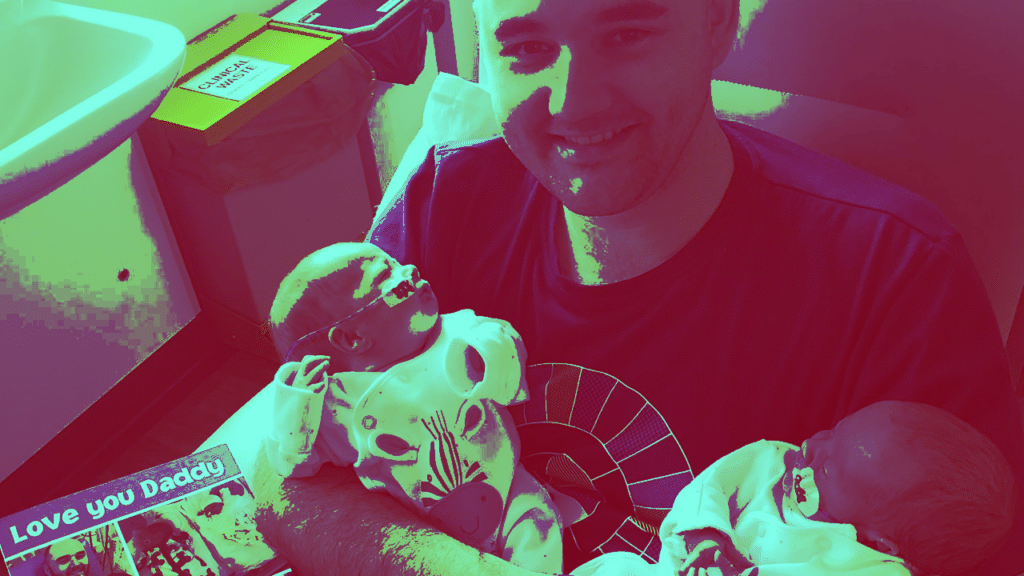 No break from the new routine
Wake, coffee, eat, shower, dress, drive to hospital.
This was the new normal for the MacDonalds, and by mid-June we were doing it unconsciously, seasoned veterans of the NICU ward as we now were.
Thus, Father's Day 2019 started in much the same way as any other day. Only this time, I was barred from entering the ward by my wife, who insisted I wait in the corridor for a few minutes.
Once given the all-clear, I trudged through as usual, but today there was bunting and the nurses appeared (somewhat implausibly) more chipper than usual. A special day in the calendar, it seemed.
The reason for my wait was the not-at-all-obvious wardrobe change the boys had undergone. Now clad in "I love my daddy" romper suits, they were none the wiser as I tore open a personalised card and choked back tears at the mug they had gifted me, which was emblazoned with photos of those first precious cuddles back in Sheffield. Back when things still hung in the balance.
I don't know for certain, but this may have been a watershed – I think it was the first time I appreciated being a dad. With the boys developing rapidly and nearing discharge, my worries were easing, and only now did it feel like something to celebrate.
Shortly afterwards, a gift from the ward itself was given. The boys' handprints alongside photos in a stylish copper effect frame. A lovely touch, and one I felt almost embarrassed to receive. Shouldn't I be the one lavishing gifts upon these miracle workers?
The guilt of leaving
I still feel a pang of guilt that I left the hospital that day. But I am a son myself, and my own dad would soon have an urgent need for the bottle of Rioja currently in my possession.
So we left and met up with some of my family for a pub lunch. It was nice to have some normality, but I'd be lying if I said I wasn't constantly thinking about my boys. Thinking of the place I couldn't wait to be a distant memory.
Belly full and primed with a cold pint, it was time to head back.
But first, I had an overnight bag to pack. There was a special treat in store.
Rooming in: welcome to fatherhood
Joyous news; the boys were doing so well that whispers of the word "home" were being heard more and more frequently. So, a momentous Father's Day treat: we were invited to "room in" – an event whereby parents stay on the ward in a room WITH THE BABIES. ALONE.
A practice run, if you will. Like test driving a car, except you have to keep the car even if it's crap. Or you crash it. Or it won't start. Or it's too noisy. Especially if it's too noisy.
Much excitement.
Here we were. The boys each in a little Perspex cot on wheels, and steered delicately into a tiny box room for a first sleepover with mummy and daddy.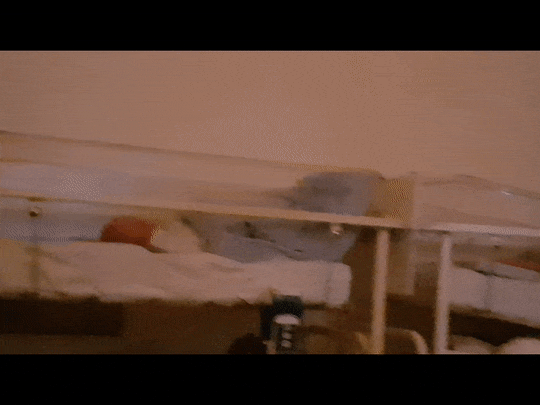 *Cut to bedtime*
Like all good sleepovers, this sleepover featured absolutely no sleep.
For centuries, sleep deprivation has been a favoured torture technique of intelligence and interrogation personnel. Prisoners or subjects are kept awake, often by deafening, repetitive music as a way of extracting information.
You know what they should use? Twin babies. Neonatal twin babies. Because that shit is real torture, let me tell you.
This was not good. A gruelling three-hourly feeding schedule meant, at best, a couple of hours of shuteye between each feed. Of course, though, our sons were about 15 minutes apart on their charts, so that put paid to a bit more potential sleeping time.
Then there was the whole care routine either side of preparing the bottle and feeding:
Take the temperature
Record the temperature
Change the nappy
Was it a solid or a liquid?
Oh look, here's more liquid
Oh, it's on the bed
Hello, nurse? Can we have some more sheets, please?
Alas, any remaining time I'd earmarked for rest was obliterated by ear-piercing crying and screeching.
Thanks, lads. Happy Father's Day indeed. Who needs sleep anyway?
Surely it would be easier at home. Home is nothing like NICU.
The Father's Day that should never have been
It might sound like a woe-is-me diatribe, but this is more a lighthearted look at how my first Father's Day as a dad played out. That rooming in night was an eye-opener, but one I'd relive time and time again if I could.
After weeks of worry, it was a privilege to be able to spend the night as a complete family. On Daddy's Day, too – a double delight.
To be honest, I class it as a bonus; the boys' due date was still a good four or five weeks away, so in many ways, this was the Father's Day that should never have been.
Father's Day Minus One, anybody? Father's Day Zero?
Have you spent Father's Day in NICU? Leave a comment below and share your experiences.